We've dreamed for years of creating a stunning new addition to Outlook Inn on our historic waterfront property and now we've accomplished that dream. We're sharing the news with our subscribers and followers first. Our newest collection of rooms, WATER'S EDGE AT OUTLOOK INN, are now available for booking. These modern luxury suites have a stunning view of Fishing Bay and Indian Island and a sense of place so powerful that it will be hard for anyone to leave it behind.
As soon as the paint dries, we'll share glorious photographs. For now, glimpse the Water's Edge experience through the images below from our architects, builders and designers.

Interiors by Satterberg Desonier Dumo
Interior designer Kirsten Dumo created a sophisticated neutral earth tone palette for wall coverings and countertops that don't compete with the stunning natural surroundings visible from the suites and the 100-square foot balconies attached to all rooms. She uses pops of bold patterns for pillows to add an element of surprise and style. All rooms come equipped with beverage coolers, arm chairs, ottomans and a desk, and are decorated with original one-of-a-kind fine art paintings and ceramics, commissioned specifically for Water's Edge at Outlook Inn.
Bathrooms will delight with heated floors, marble countertops, gorgeous wood vanities and custom amenities. Our three large suites come outfitted with free-standing Ariosa soaker tubs to help you relax and rejuvenate.
Architectural Design by Award-Winning Studio 29
Award-winning architect and Orcas Islander, Christopher Rost of Studio 29, worked with our family (yes, we are family-owned and operated!) to design the first modern luxury suites this close to the water's edge in the San Juan Islands. We appreciated his expertise in sustainability and his mutual appreciation for creating the least impact possible on our natural surroundings.
The Dream in Progress
Our builder, Jonathan White, and his crew have done an amazing job building Water's Edge and we are eternally grateful for their hard work, wisdom and craftsmanship.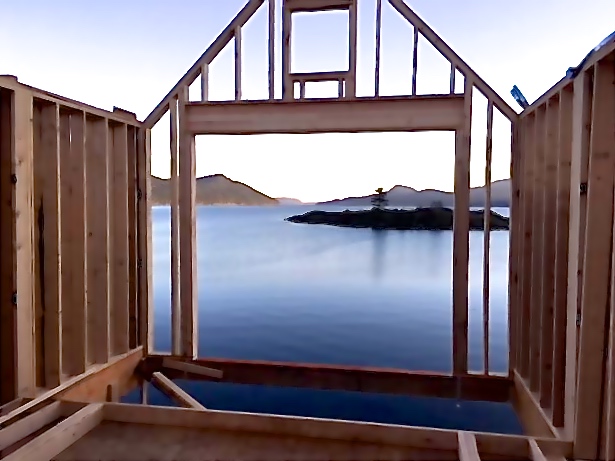 A Promo Code To Thank You
There are three large suites (500 sq. feet/44 sq. meters) and two smaller suites (375 sq. feet/35 sq. meters) available to book ($379-$449 *summer rates), each with balconies extending over the beachfront, fireplaces, heated bathroom floors and more. Water's Edge rooms are available starting June 10th and are on pace to sell out this summer. If you'd like to reserve a waterfront room, please give us a ring at 360-376-2200 or email us at info@outlookinn.com.
To thank you for following our blog or subscribing to our newsletter, please feel free to use the *promo code: DREAM this weekend for the following perk:

*Book a new reservation in the Water's Edge Suites by May 5th, 2019 and receive a complimentary $50 credit to the New Leaf Cafe.
Available for stays starting June 10, 2019 through November 1, 2019.

Call 360-376-2200 or email us at info@outlookinn.com to book.

Promo code: DREAM expires at 8 pm on Sunday, May 5, 2019

Cannot be combined with any other discount or promotion

Promo can also be used on upgraded reservations from other Outlook Inn room styles

Water's Edge suites have a 2-night minimum stay. Promo code may be used to upgrade a room reservation.

New reservations only and offer cannot be combined with another promotion.

New Leaf Cafe is closed on Tuesdays and Wednesdays.