Celebrate Life Here

Experience the culture of Orcas Island through genuine hospitality, tide-to-table food...and wonderful rooms
EXCLUSIVE WATER'S EDGE
Our five new exclusive Water's Edge Suites transport guests with a sense of place so powerful you can't help but feel revived and inspired. These modern luxury accommodations are the closest suites to the water's edge in the San Juan Islands, each with stunning views of Fishing Bay, Indian Island, and beach access.
EAST WING Comfort
We have over 50 years of hospitality under our belts, or rather between our sheets. Let us be the soft place you lay your head after a day of windswept adventure on the Salish Sea—although therapeutic doses of doing nothing are also highly recommended. A few of our East Wing rooms can also accommodate pets. Call 360-376-2200.
LUXURY BAY VIEW SUITES
From breathtaking water views and heated towel racks to over-sized soaking tubs and custom linens, we've created spaces that will hold you and your biggest dreams. Private balconies give you a commanding view of Fishing Bay, Indian Island and the emerald coastline down the bay. All rooms walking distance to the heart of Eastsound Village.
HISTORIC MAIN BUILDING
Democratic rooms for the budget-minded travelers who don't want to forgo the best service or the best location on the island. Shared showers and toilets are located in the hallway but thoughtful amenities make this feel like home. *Children under 4 are not allowed in these thin-walled rooms.
DISCOVER Sara's Garden
The perfect place to read a book or take a thoughtful stroll. Outlook Inn and Water's Edge at Outlook Inn guests have access to Sara's Garden and its charming vintage chapel. A delightfully romantic winter wonderland December thru February, and bursting with colorful blooms and energy in the spring and summer.
ENJOY NEW LEAF CAFE
Unpretentious French-inspired cuisine with a Pacific Northwest flare that will satisfy the most discerning gourmand. Lum Farm Lamb Sliders, Duck Mac n' Cheese, and Shoestring Truffle Fries are small plate favorites. Main entrees vary by season, and include farm-to-table and tide-to-table selections. Reserve a table | (360) 376-2200
Introducing our newest Water's Edge suites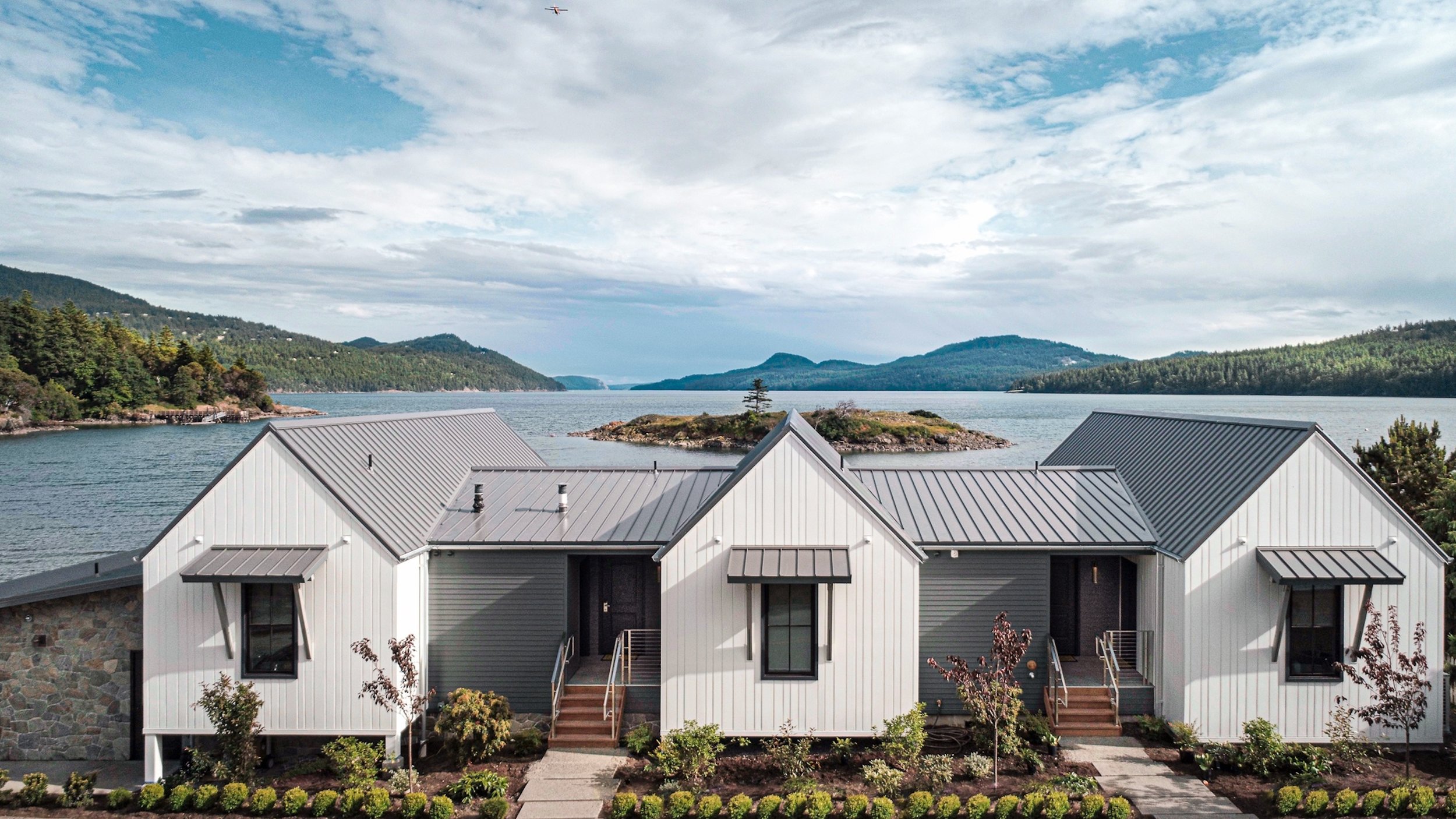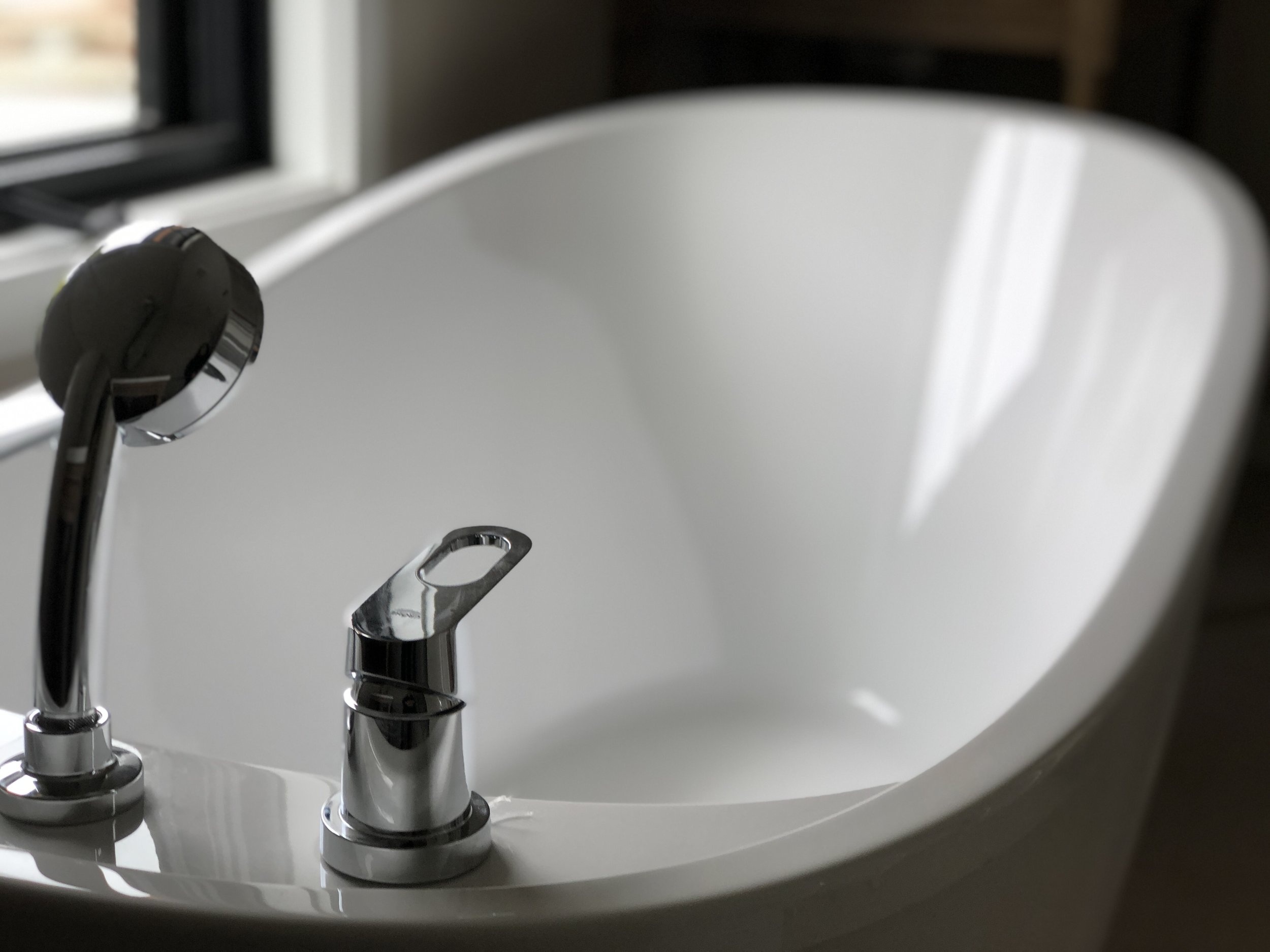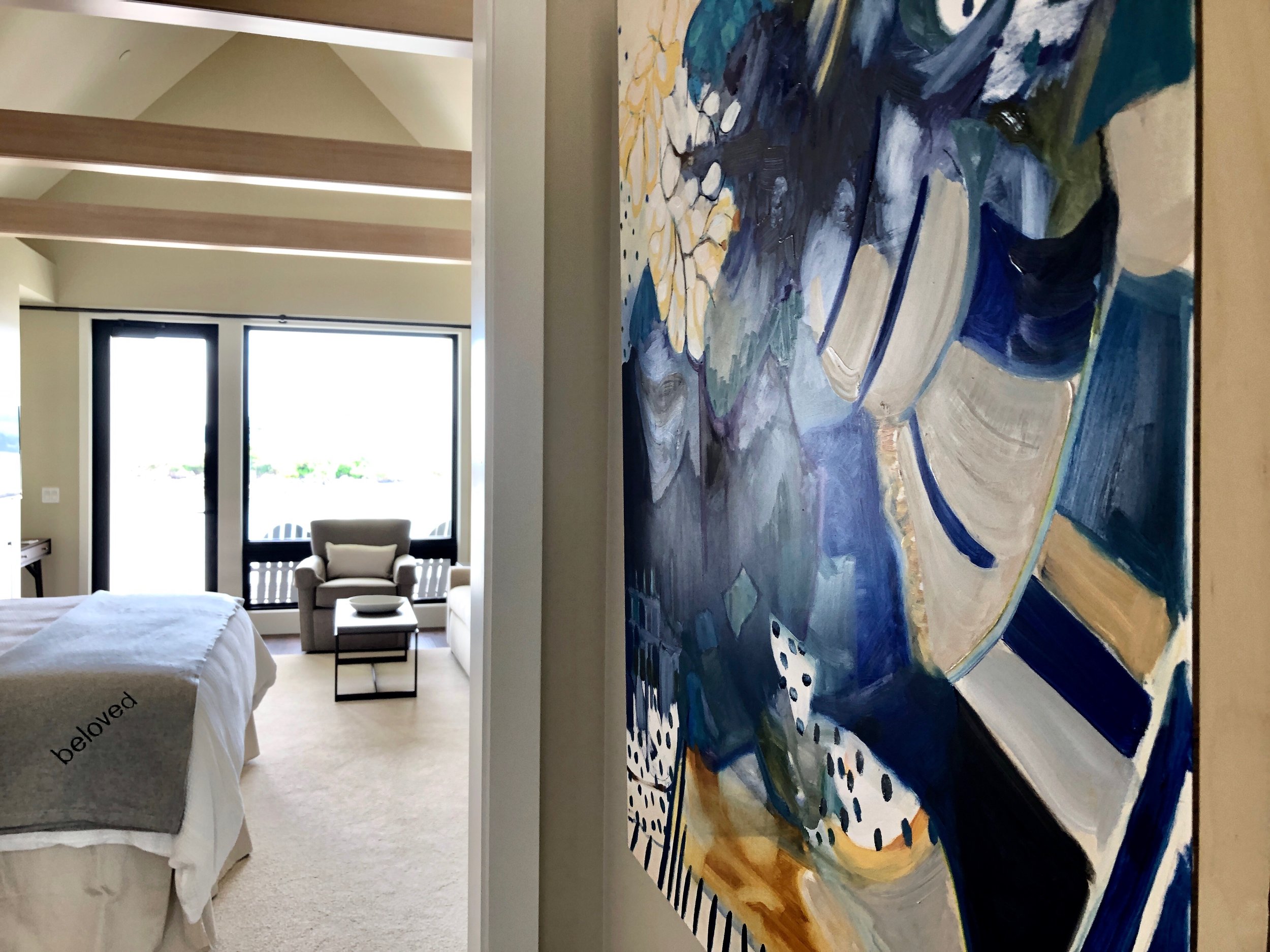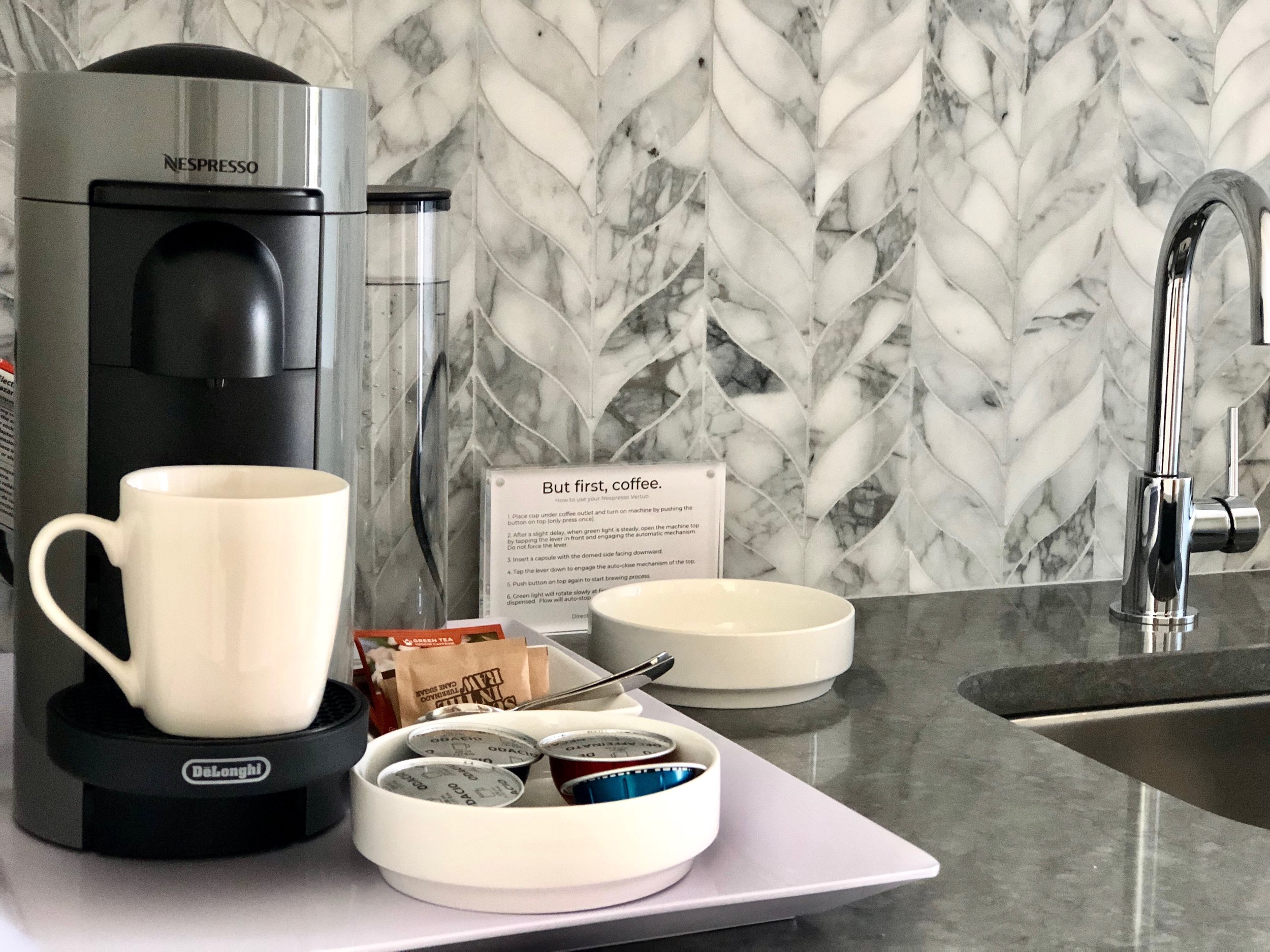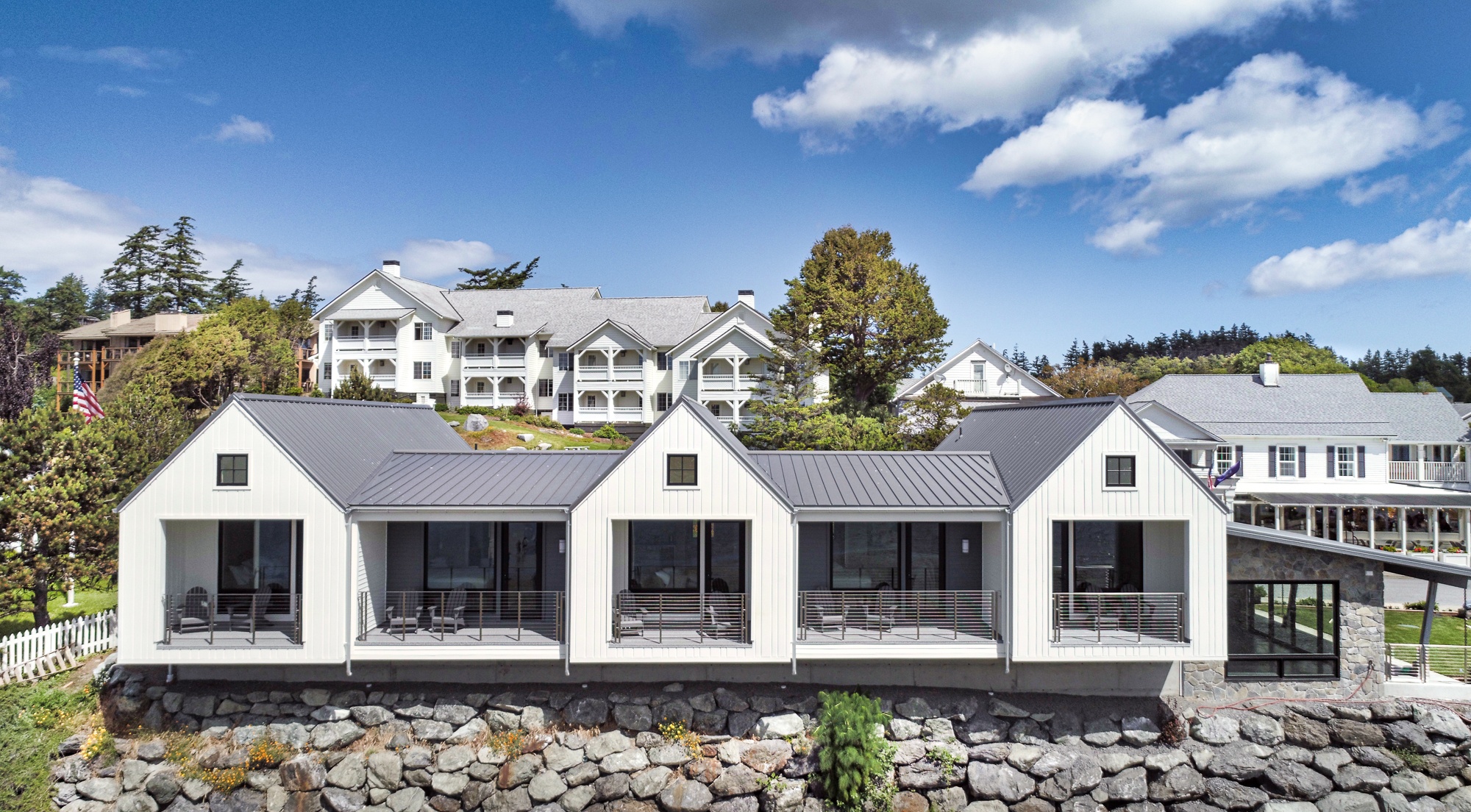 Banner photographs of rooms courtesy of Ilias Schneider
Water's Edge Suites
Our newest Water's Edge Suites transport guests with a sense of place so powerful you can't help but feel revived and inspired, the moment you enter. These exclusive 375 sq. ft. (35 sqm)—500 sq. ft (44 sqm) modern luxurious rooms are located on Orcas Island and are the closest luxury suites to the water's edge in the San Juan Islands. Each suite has stunning views of Fishing Bay and beach access.
Thoughtful interior design details have been incorporated to make your stay as comfortable and memorable as possible. Every suite includes a 100 sq. ft balcony overlooking Fishing Bay and Indian Island, a King-size bed, sitting area, wet bar, electric fireplace, and heated bathroom floors. Each room is also enhanced with original fine art oil paintings and ceramics made exclusively for Water's Edge, fine linens, beverage coolers, plus the amenities below. Available for stays starting June 10, 2019—Available to book now. Read more about Water's Edge.
Call (360) 376-2200 to book a room
Easy Beach Access

Heated bathroom floors

His and Her bathroom sinks (large suites only)

Desk area + sitting area

Queen Sleeper Sofa (large suites only)

Organic Bath amenities + Robes

Hair dryer

Irons + ironing board
100 sq. foot balconies w/ water views

Central A/C & Heat

Free-Standing Soaker Tubs (large suites only)

Smart Flat Screen TVs with Cable

Electric fireplaces

Beverage coolers

Complimentary wi-fi

Nespresso Vertuo Coffeemakers
No-Fuss Cancellation Policy
Please note that Outlook Inn and most accommodations on Orcas Island and Friday Harbor sell out in the summer. It's a great idea to book your rooms asap. For your convenience, we have a no-fuss cancellation policy: If you cancel 7 or more days prior to your check-in date there is no penalty.

Shared Bath Rooms in the Historic Main Building If you just need a cozy spot to tuck yourself in at night, after a day out and about, these simple rooms are for you. They are small but incredibly charming and affordable for an Orcas Island vacation. These rooms are pretty "no frills", but we don't skimp on the hospitality and you get the same amazing location right in the heart of the island for easy exploring and adventures.
***The Historic Main Building is pet-free. We only allow pets in specific rooms in the East Wing. Please call us for availability at (360)376-2200.
The Historic Main Building is a grand old dame and an Orcas Island landmark. "She" was built in 1888 by William Shattuck and originally served as the jail, post office, general store, dance hall and house of ill repute (or so the rumor goes). In the 1970's it was the only building on the property and was home to a spiritual commune - The Louis Foundation - complete with guru, famous celebrity followers, and plenty of controversy.
Now it provides lodging to a modern crowd but its history can be felt beneath your feet and in your heart, if you let it. The floors are wavy from settling around the 125 year old stone fireplace on the first floor and just like a fairy godmother who lives forever, she continues to welcome, comfort, and bless those that visit her.
Features
Rooms share bathrooms located in the hallway

Each hallway has a men's bathroom, women's bathroom, and private shower

Cozy, charming, and affordable.

Telephones in each room however no television.

Free Wi-fi and parking.

We don't allow children under 4 years of age in the Historic Main Building due to the age of the buildings sound proofing...in our experience those cute little feet just march to the beat of their own drum and sometimes sing to it too. This is the only building with age restrictions.
With the town of Eastsound within walking distance of your door and the waterfront just steps away, these rooms are the perfect combination of comfort and value in the heart of Orcas Island. We can't do anything about the direction that the building faces, it doesn't have a water view - except for one room. But what we have done is make the inside as comfortable and welcoming as possible...and our guests are telling us they'd like to move right in!
***Traveling with pets? We only allow pets in specific rooms in the East Wing - call to book a reservation for you and your furry friend (360) 376-2200.
features
Bright and Spacious

Window seats in upstairs rooms

Private bathrooms with showers

Free Wi-Fi and parking
Would you prefer to go budget on the room so you can splurge at the New Leaf?
Check out the rooms in the Historic Main Building.
Really need to pamper yourself?
Our Water's Edge Suites are now available or Luxury Bay View Suites might just tame your vixen and with two ESPN sports channels, he'll be wearing a smile too.
The Bay View Suites offer some of the very best views on the island from your own private balcony. Perched atop a hill, this view will mesmerize you no matter what the weather. Rooms feature comfy beds with custom linens and sitting areas with gas fireplaces, perfect to curl up with a good book and a glass of wine.
***The Bay View Suites are pet-free. We only allow pets in specific rooms in the East Wing.
FEATURES
Breathtaking view in every room

Private balcony

Free Wi-fi and parking

Gas fireplace

Over-sized jetted tub

Bespoke line of amenities

King size bed w/ custom bedding

Private balcony with views

Studio kitchenette with small fridge and coffee maker
Same Day Booking Discount
Need a last minute getaway? Pack your bag and book a room on the same day as your check-in day and receive 15% off the regular rate.
15% Off Regular Rate

Reservations require a non-refundable one night deposit

Click here to book online or call us at (360) 376-2200

Must book directly with us to receive the discount, not applicable to reservations booked through third party sites.